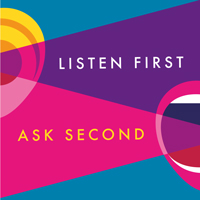 For World Usability Day, November 14 2019, I'm excited to announce the first in a series of Effortmark stickers and posters.
'Listen First, Ask Second' is the result of a collaboration with award-winning illustrator Julia Allum.
Good design starts with listening to users
In user research we often focus first on the concerns we've got, rather than making the space to genuinely find out what is happening for the people we are designing for.
Let's think for a moment about surveys. Most of us are bombarded with invitations telling us 'we want your opinion'. Yet when we complete the survey it's clear that they don't want our opinions at all but to find out how much we agree with their opinions.
'Listen first, ask second' is a reminder to give space to our users.
How to get hold of the poster and stickers
Julia has generously agreed to make the poster available with a creative commons license. So to print your own: download the Listen First poster
If you'd prefer someone to print it for you, then visit Julia's shop for A3 or A4 versions.She also offers beautiful Giclée fine art prints.
I've been longing to have some stickers for ages, so I'm thrilled to have my first one. If you want a sticker, you can make some yourself or catch me next time you see me.