Publication day for the book that brings together much of what Gerry Gaffney and I have learned about creating better forms over more than a decade of practice, consultancy, teaching and research.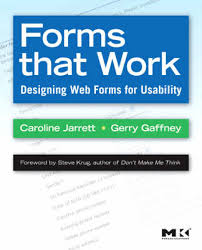 Here is what the publishers Morgan Kaufmann have to say about Forms that Work: Designing Web Forms for Usability by Caroline Jarrett and Gerry Gaffney:
"Forms are everywhere on the web – for registration and communicating, for commerce and government. Good forms make for happier customers, better data, and reduced support costs. Bad forms fill your organization's databases with inaccuracies and duplicates and can cause loss of potential consumers.
"Designing good forms is trickier than people think. Jarrett and Gaffney come to the rescue with Designing Forms that Work, clearly explaining exactly how to design great forms for the web. Liberally illustrated with full-color examples, it guides readers on how to define requirements, how to write questions that users will understand and want to answer, and how to deal with instructions, progress indicators and errors.
"This work:
provides proven and practical advice that will help you avoid pitfalls, and produce forms that are aesthetically pleasing, efficient and cost-effective;
features invaluable design methods, tips, and tricks to help ensure accurate data and satisfied customers;
and, includes dozens of examples – from nitty-gritty details (label alignment, mandatory fields) to visual designs (creating good grids, use of color)."
Buy a copy of Forms that Work: Designing Web Forms for Usability
About the book
Here are some things about the book that we are particularly proud of:
Steve Krug agreed to write the foreword. That's definitely the coolest thing that's ever happened to us.

Ginny Redish agreed that it could be a companion book to her wonderful book "Letting go of the words: Writing web content that works". We've tried hard to emulate her clear and approachable style.
We managed to keep the book to under 200 pages, so you can read it at a sitting.
We persuaded our publishers to let us have lots of illustrations, and even a few cartoons.
Caroline talks about the book with Tom Johnson of I'd rather be writing.
Reviews of Forms that Work
Jakob Nielson
"The humble form: it may seem boring, but most of your website's value passes through forms. Follow Jarrett & Gaffney's guidelines, and you'll probably double your online profits." – Jakob Nielsen, Principal, Nielsen Norman Group
Web Designers' Review of Books
Nora Brown talked about our book on her review website Web Designers' Review of Books: Review of Forms that Work. February 2012
"a straightforward, practical volume which outlines best practices for creating usable web-based forms".
Assure Dynamics
Assure Dynamics, developers of dynamic forms and online systems, recommended our book in their blog post Laying out a form. November 2010.
R-She-Yeah
Arshi posted a long set of notes about the book on her blog R-She-Yeah: Thinking about forms and usability. May 2010.
Schrijvenvoorinternet
Aartjan van Erkel wrote a review in Dutch on his blog Schrijvenvoorinternet: Het op één na beste boek over webformulieren. April 2010.
Foraker
Foraker reviewed our book on their website Usability First, March 2010.
"This book brings to light the idea that good form design isn't just about looks—it's about making sure you're asking the right questions so your users understand how to answer".
Jim Lesko
Jim Lesko of Supply Chain Technology – The Portal: a look under the hood mentioned our book as a resource in his post Finding good UK design tips for business applications, February 2010.
"an easy-to-follow, common sense approach that anyone having an interest in web design can pick up and process to make their user interfaces better".
Dan Croxen-John
Dan Croxen-John of Applied Analytics reviewed our book: The Science of Online Forms, February 2010
"Let me start with my conclusion first – if you like waiting to the end of anything to know what someone thinks, I'm sorry I am not that kind of book reviewer – this book is better than you think it is".
Guy Wyant
Guy Wyant included our book in his Christmas reading: Jeeves is About Usability, Too. January 2010
"This was a quick read; short but solid. Most everything was review for me, but for those just starting with web forms, this would be great".
Jordi Rosell
Jordi Rosell included our book on his 5 llibres #mustread sobre usabilitat (5 must-read books on usability). December 2009.
Ayesha Habeeb Omer
Ayesha Habeeb Omer included "Forms that work" on the List of books you would want to read in the year 2010, December 2009.
Gary J Anderson
Gary J Anderson tweeted about our book: "Good refresh on effective and usable form design", December 2009.
Matteo Caprari
Matteo Caprari reviewed our book on his blog, October 2009.
"There is no html in this book, it's not about programming forms. And that's why I liked it."
Bennett McElwee
Bennett McElwee reviewed our book and created a summary of key points from it on his blog, Semicolon, September 2009.
"a practical book dedicated to making web forms usable and useful".
Neil Allison
Neil Allison mentioned our book on his blog, Usability Ed. August 2009.
"Forms that Work is a book that nicely compliments Ginny Redish's Letting Go of the Words. Both sit on my bookshelf".
Holly Phillips
Holly reviewed our book on her blog, All about website usability, June 2009
She particularly liked the idea of 'Forms protocols':
"But one of the best tips in the book focuses not on the form itself, but on working with the person requesting the form:  always use a "form protocol" on which the requester must specify, for each and every field, who needs it and what they'll do with it".
Alice Preston
Alice reviewed our book on Goodreads, June 2009.
"This book is staying on my "consult" shelf next to my desk. I expect to look at it often".
Margaret Tassin
Margaret reviewed our book for the Business Forms Management Association's newsletter Forms talk, June 2009
"The authors follow their own advice to demolish the walls of words. Don't let the simplicity of the format delude you into thinking there isn't any content. It is packed with great illustrations to explain point by point yet it isn't overly burdened with heavy text. The book goes step by step on how to define requirements, write questions and instructions, select the proper web tools and test".
Gabriel Svenneberg
Gabriel reviewed our book on his blog In usability we trust, April 2009
"I found Forms that Work fun and easy to read. It's filled with illustrations and real-life examples, which makes it easy to understand how to put the concepts into practice. What I love about this book is that it's compact and succinct. The authors deliberately decided to keep the book under 200 pages which I think was a very wise decision.
The nitpicks I have is that I found quite a few typos. I also sometimes felt that the illustrations didn't quite had the quality that I'd expect from a book like this. That said, these are only minor complaints and ones that shouldn't prevent you from reading this otherwise excellent book".
Craig Tomlin
We made it onto Craig's list of 12 Really useful usability books, March 2009
"I'm kind of surprised that this book didn't sell out shortly after printing. By reading and using this book, any web site manager that has forms on his or her web site could probably double conversion rate!"
Sherri Martin-Hutchins
Sherri Martin-Hutchins wrote a review for the STC Usability and User Experience SIG newsletter, February 2009
"Forms That Work is filled to the brim with everything you need to know to make a form that will produce results. It is a definite addition to any web worker's reference shelf".
James Baverstock
James wrote a review on his blog, qwertyphilia, February 2009.
Overall, it's a nicely designed book which also includes cartoons, case studies and a useful list of further reading with helpful comments".
A second edition of Forms that Work?
Question: Will you be creating a second edition of "Forms that work"?
Answer: No. Writing a second edition would be very time-consuming, and we'd rather spend our writing time publishing short articles in a more timely manner.
If you're mostly interested in interaction design and the appearance of forms, then we recommend Jessica Enders's book "Designing UX: Forms" (2017). She's done a great job of covering what's happened since our book came out.
If you're mostly interested in service design and the relationship of forms, or in content design and the conversation of forms, then we think that our book will be fine for you.
#forms #formsthatwork