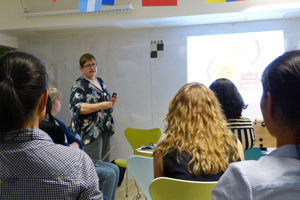 If you look at a form through the eyes of your users then you can learn a lot, very quickly.
We tried it recently at a forms studio with Women Who Code London.
Don't look at the form
One of the group suggested an example: a form to capture leads for life insurance quotations.
People were surprised when I said the first step is: don't look at the form.
We only get one chance to see the form for the first time, so it's best to save that chance until after we've thought about people.
Start with the story of a person
We began by writing a story about someone who might be using the form. (If you've researched some personas for your form then try using one of them. If not, any quick story will help you to get started.)
We chose 'Hannah', a new mum who had never thought about life insurance until the arrival of her baby, Ada.
What's a 'level of cover' anyway?
We filled in the form from Hannah's point of view, picturing her trying to complete the form while holding a crying baby.
The company's form wasn't unusual for the insurance industry but, for Hannah, surprisingly hard to complete.  For example, we wondered how she would have gone about answering the question 'how much cover do you want?'
We found ideas for improving the form
Inspired by our imagined Hannah, we came up with many ideas for improvement – and reminded ourselves that we, and the insurance company, could learn so much more if we went on to do a proper usability test of the form with real people.
It's not just about insurance
To see how the method might work on another form, we split into smaller groups and tried another one – this time, one aimed at us, people working in technology. At a glance, the form looked fine. But we spotted the form's owner making lots of notes about things she wanted to change as she saw it from the user's point of view.
We got lots of ideas – in only a few minutes
We only had about 10 minutes for each form, but we generated lots of ideas for improvement. The winning combination?
Start with the story of a person who might fill in the form and the reason why they're doing so.
Get people to try the form who haven't been involved in creating it.
Thanks to everyone who came
We called the event "Let's have a lovely chat about forms" and thanks to the lively and enthusiastic contributions from everyone who came, that's exactly how it turned out.
My thanks to Women Who Code London for arranging it, and to Thoughtworks London for providing the venue and delicious pizza.
#forms #formsthatwork