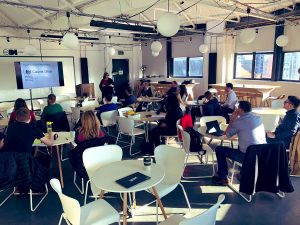 In March 2019, I started working mostly with the NHS digital standards and redesign teams on their advice about patterns.  This post:
gives the background to the work,
explains about the draft curriculum for advice about 'how to design a form', and
asks you to comment on the curriculum.
In April 2019, I did a webinar for Digital.Gov that updates the ideas in this post with more results.
It's easy to find forms patterns in the service manual
The NHS digital service manual includes forms patterns.
We've found that designers and developers (our main users) can do two things quite easily:
Get to a forms pattern
Use the forms pattern to build a form:
As with everything that we do, we aim to use GDS advice where possible and our patterns link through to the GDS design system where appropriate.
It's more difficult to get overall advice about forms
We've found that if your team doesn't include a designer, or your designer wants to check the service manual advice on how to design a form overall, then it's more difficult to find that advice. For example, here is one route to deciding how to allocate your questions to pages:
We believe that teams need advice because recently a team built a form with our components but the form did not test well with users. We think that advice that is easier to find, and possibly better advice, might have helped the team to build a better form.
We are also keen to be sure in general that teams create good stuff when they use our front-end system and follow our advice. Ian Roddis, service manual product lead, explains more about this in
The path of user needs, avoiding beautiful nonsense, and the shelves of wisdom.
The 'how to design a form' curriculum is a step on the way to overall advice
I asked Simon Wilson, organiser of the Leeds Govdesign Meet, if I could try out my first draft of a curriculum on 'how to design a form' at the meeting on 27th February 2019. I knew that the meetings attract a knowledgeable and friendly group of people working in various areas of government and health. My draft curriculum and a selection of their comments are in these slides:
How to design a form: Discussing a curriculum from a session by Caroline Jarrett at the Leeds GovDesign Meet, February 2019
Lots of thanks to Simon Wilson and to everyone at the meet.
Please comment on the curriculum
The best way to comment on the curriculum is:
Join the #forms channel
Comment as you wish.
If you don't want to use Slack, or you don't want to comment in public, then choose one of these:
contact me on twitter: @cjforms
Next steps
I hope to arrange some workshops to discuss and refine the curriculum. I'll be advertising them through the service manual Slack channel. If you'd like to be on the invitation list but prefer not to join the Slack channel, please contact me directly.
#forms