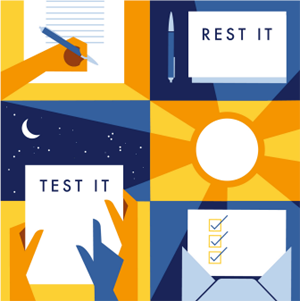 'Rest it and test it' is a poster about writing by me and illustrator Julia Allum.
Rest it: leave it alone for a few hours
When you're writing – web, print, whatever – and you care about the outcome, it's really easy to get too close to the words. Your sub-conscious needs a chance to work on what your conscious mind has been slaving over.
Put your writing aside for a few hours and you'll be able to look at it more clearly.
Test it: get someone to try to use it
If you're writing something that's only for you, then you can skip this step.
If you're writing something that you want people to use, then make sure that you test it.
Find someone who will use it.
Ask them to try using it. Get them to tell you what they think as they use it.
Watch them and take notes.
Think about what they said and make changes.
Repeat from step 1 until you're happy and the people who use it are happy.
How to get hold of the poster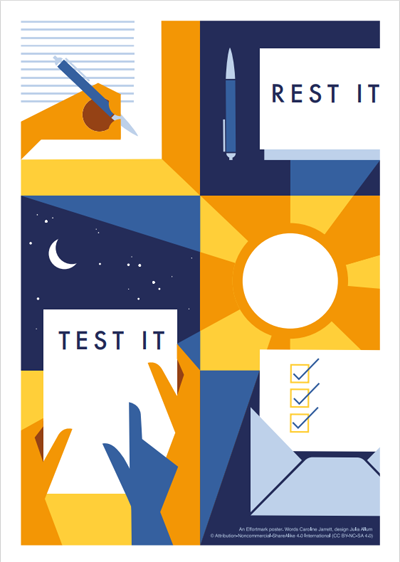 As with the previous posters, Julia has generously agreed to make the poster available with a creative commons license.
To print your own:
If you'd prefer a high quality giclée print, visit Julia's shop for A3 or A4 versions.
This is the sixth poster in the series
You may also like the previous posters Julia and I have collaborated on. They are all my favourites.
I also have an editing website
"Rest it and test it" is one of the 9 steps that I use when editing. If you'd like to see all of them, have a look at Editing that works.