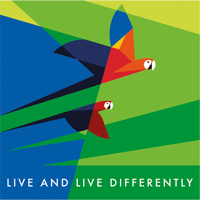 Back in January 2020, I did a thing we don't do any more: go to a conference. It was New Adventures 2020 in Nottingham and I chose it for two reasons: Andrew Travers recommended it, and I wanted to hear Akil Benjamin's talk. Akil is a leader at COMUZI, doing "radically purposeful design" and I wanted to hear what he had to say about design, artificial intelligence, and what radical design might be about.
The conference was great and I heard lots of other talks that inspired me, but it was Akil's talk that really struck home. Early on, he put up a slide that said:
LIVE AND LIVE DIFFERENTLY
He told us that he was inspired by an exceptionally difficult year, 2017, that made him rethink and refocus. This chimed with me because I had an exceptionally difficult year due to leukaemia in 2017, where I was also forced to rethink and refocus. I thought that Akil's words had a lot of power for me, so I asked him if I could collaborate on a poster with Julia Allum.
We met, and discovered many connections – mostly in ideas and philosophy, and also that my childhood included several years living in Guyana and his family heritage includes Guyanese roots.
This poster combines bright colours and a fractured background
Our poster is a collaboration. Akil and Julia have their own ideas and interpretation of it, and we hope you'll bring your own thoughts to it, too.
Here are mine:
It celebrates our Guyanese connection by featuring scarlet macaws (ara macao), spectacular birds that are a feature of the tropical rainforest that covers parts of Guyana, and they are a living embodiment of the bright colours of the Caribbean – Guyana being both part of the South American mainland, and a part of the West Indies.
They fly on fractured backgrounds that to me symbolise the challenges that we live through.
There are two of them because even when we feel alone, there's always someone out there who wants to be a support and help – and that someone might even be a better version of ourselves.
Get the poster here or from Julia's shop
As before, Julia has generously agreed to make the poster available with a creative commons license. So to print your own: download the poster artwork (.pdf)
If you'd prefer to get a top quality giclée print, or a large size (up to A1), then Julia has Live Differently listed in her shop.