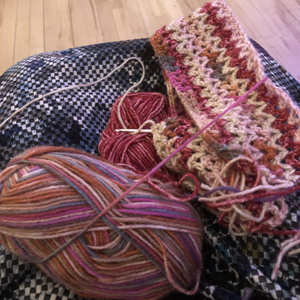 Many years ago, I heard a Duchess talking on the radio about her "everyday working life" – clearly nothing like mine. The point that struck me was that she took her tapestry to meetings. How I longed to do the same, but (not being a Duchess) I felt that I wasn't allowed to.
I like making things, especially with my hands
I've been a keen crafter since before I can remember. My mum told me that in kindergarten, I enjoyed cutting out paper shapes with scissors to make collages, embellished with crayon. There's a cross-stiched cushion on the sofa that I made when I was about 7, and I have been cross-stitching on and off ever since. I started to crochet when I was about 15, when a friend asked for help with making a blanket for a sick relative.
Fast forward, and I continue to enjoy papercraft and crochet. A few cross-stitch projects linger – like most crafters, I have a stash of Works in Progress (WIPs), and far too many materials purchased for the future. I added beadwork about 5 years ago and love it. Most recently, I've taken up quilting (and even asked for the cover of my book to be based on a patchwork theme).
Simon Collinson gave me permission to craft
But it wasn't until 2020 that I began to out myself as a crafter, and started to craft in public.  As Simon Collison welcomed us to the New Adventures 2020 conference in Nottingham, he gave all of us in the audience permission "to knit if we wanted to". I take a crochet project with me everywhere I go, and reckoned that most people don't know the difference between knitting and crochet anyway – so I scurried back to my room to grab my crochet, and for the first time ever worked on it at a professional event.
It was joyous. Having my hands occupied kept me away from the distractions available on my phone. I felt much more present and could concentrate better on the talks. I was calmer and able to focus for longer.
I converted Carrie Bishop to the joy of crochet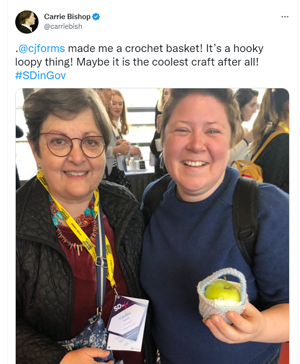 I wasn't sure whether I was allowed to crochet at other conferences.
My next in-person conference was Service Design in Government 2020, and my travelling crochet project stayed in my room. But then Carrie Bishop used a crochet metaphor in her wonderful keynote, describing it as 'the least cool craft'. Hmm.
Once again, I scurried back to my room – but this time, I made a crochet basket for Carrie. I wanted to make her laugh and laugh when I gave it to her – which totally worked, and maybe changed her mind about crochet. But I made the basket in the evening, on my own.
Crafting helps me to concentrate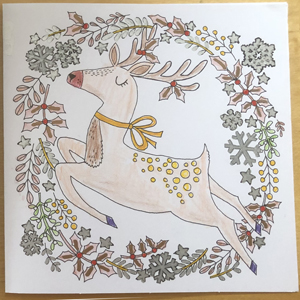 As we all adjusted to virtual events and meetings dominated our professional lives, it was easy for me to craft unobtrusively during them: sometimes crochet, more often colouring.
Colouring seems to be a craft that greatly annoys some people, but for me it's restful. I prefer to do my colouring sitting at a desk – which is exactly where I am during most online meetings. It's also helpful that colouring can be put down and picked up without any worry about "missing a stitch" or "going wrong".
Most of all, colouring does not occupy my mind at all. It allows me to concentrate fully on whatever I'm supposed to be listening to, and stops me feeling tempted to "take a quick look at email" or other online distractions.
Some events welcome a crafting session
My next step towards crafting in public, professionally, came as a result of working on the Future Farming Programme at the Department of the Environment, Food, and Rural Affairs. From time to time, we had a 'wellbeing day' where everyone on the programme was encouraged to take an hour or two, or even the whole day, to do something that focused on wellbeing. I looked at the sessions in the first one and saw that yoga was on offer, which made me think about craft. So at a subsequent wellbeing day, I pitched a 'craft and share' session. I think maybe 5 or 6 of us turned up. Our crafts ranged widely, including knitting, garment making, painting, and woodwork. Even more excitingly, our skill levels also varied – it was delightful to hear from people who came to share their first efforts at a craft, as well as the experts showing us their best work. We all enjoyed encouraging each other.
Emboldened, I suggested a 'crafty corner' Slack channel at my next online conference, the online-only Service Design in Government conference in 2021. I was thrilled to learn that I'm far from being the only person who finds it easier to concentrate on a talk on a technical topic when doing some craft at the same time.
Crafting helps my type of neurodivergence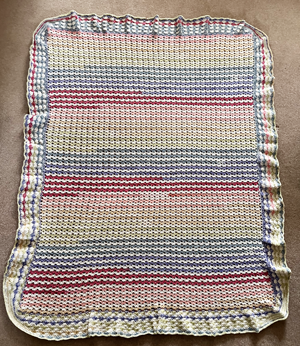 I don't have a specific label for my neurodiversity. I know for sure that I'm not neurotypical, and I'm beginning to recognise in myself traits that I've heard about from some autistic people, and others that I've heard described as aspects of Attention Deficit Hyperactivity Disorder.
At the Service Design in Government conference in September 2022, I decided to be fully out as a crafter – helped by Sophie Dennis, our conference chair. She mentioned the 'crafty corner' at the previous online conference during her conference welcome talk, and gave us permission to craft.
My current crochet project was always with me so that I could keep my hands busy during the talks, and my mind fully focused on whatever the speaker was telling me about. It definitely worked for me. I was calmer, and able to go to more talks than I can cope with without crochet. Maybe it's a socially-acceptable type of stimming, combining repetitive movements with the pleasant textures of the yarn and the smooth crochet hook.
Please encourage crafting – and other soothing behaviours
If you are organising a meeting or event, especially one where people are attending in person, then please help me and people like me by explicitly telling us that you encourage people to do soothing things that help concentration such as crochet, knitting, tapestry, sketching, doodling, and stimming.
If you worry that our repetitive activity might bother other people, then maybe set aside a section of the room where we can be ourselves without disturbing our neighbours (although so far, nobody seems to be in the least put out by my crochet).
I'll be so grateful. And a better attendee.