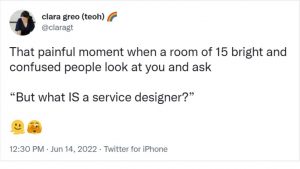 "But what IS a service designer?"' Clara Greo (@claragt) provided the inspiration for my session at the 2022 Service Design in Government conference (#SDinGov). Clara is an expert service designer herself, and teaches service designers. So if she felt a bit flummoxed, then it seemed to me that the question was worth thinking about.
We thought about three types of definition
I knew that Clara's context was a training course with 15 people who were all new to designing government services. I challenged attendees at the conference session to think of their definition in three ways:
as a straightforward definition
when explaining what the job of 'service designer' would involve for someone new
from the point of view of a hiring manager, looking to recruit a service designer.
People had the opportunity to discuss their definitions with their neighbours in the room, and to share their sticky-note definitions with us afterwards – using the well-known service designer's method of grouping sticky notes on a convenient wall. If you look at the slides below, you'll see the photos that I took (not all completely legible, I realised later to my disappointment), including my best attempts at transcribing them. Note: [text in square brackets like this] is something I've added to give context.
Some people chose to focus on the characteristics to look out for, such as this one:
[For the] Hiring manager: someone who can help people see the big picture, keep focus on the right things + move things forward
I think one of my favourites is looking at the definition from the point of view of someone new:
Someone new: got all the bits of systems and people that might be separate but together are part of a wider thing
And here's a sample of definitions that I think many of us will agree with:
Person(s) who create a product or service that helps others (users) do or achieve something
Someone with a team, who contributes to designing better experience & cust[omer] care
Thinking + doing
But reflecting on the session now, over a month later, I realise that these could apply to most of us working within the design of government services. They don't quite tell the new person what the service designer does specifically, nor the hiring manager what the service designer does that is different from the other sorts of work that people do in our teams, such as user research, development, or delivery management.
Here's one I prepared earlier
I have a set of slides that I use to introduce the way I think about forms in three layers, which started as appearance, conversation, and relationship: the three layer model back in 2000. (Not a typo – over 20 years ago). These days our terminology has changed, I've thought some more about it, and I now include service design in my definition of a form.
Thinking about Clara's challenge, I thought "maybe I can flip my slides around" – defining service design in terms of delivering a form. I tried that in the session.
A form includes interaction, content design, and service design
When a page has questions and boxes to type into, then it looks like a form and works like a form. Many of us now use the term 'interaction design' for making a form easy to read and easy to use.
People filling in a form also have to understand the questions and instructions, and find the answers. That means making a conversation, and needs content design.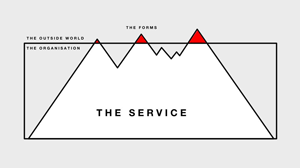 I deliberately hunt for forms to interact with, but that's a rare behaviour. It's far, far more common for people to have to deal with a form because they want to get something done.
Forms relate to services because often the only parts of the service that people see are the forms, as illustrated in Tim Paul's diagram – thought for the day.
That's where I think of service design: making it easy for people to get things done, and to move on to whatever else they want to do.
A service designer makes it easy for people to get things done and move on
My definition needs work
The session at the conference was short, and I didn't give attendees the opportunity to challenge me about whether my definition works for someone who is thinking about becoming a service designer. What does the service designer actually do all day? I have not explained that.
Nor does it particularly help the hiring manager. What skills are they looking out for? Why would they hire a service designer rather than a business analyst? Or a delivery manager? Not clear at all. Ah well. Maybe I'm a bit flummoxed, too.
View the presentation as a PDF (includes the stickies that attendees shared on the wall): What is a service designer SDinGOV 22 
View the slides on SlideShare (also includes the stickies) What is a service designer SDinGOV 22.pptx