"An election is not held to test voters' ability to follow instructions, but to receive instructions from the voters as to which candidates they will elect. No legitimate public purpose is served by designs that distort those instructions."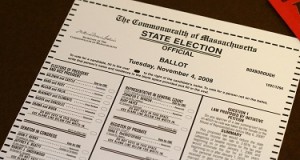 It's good to see The Brennan Center's report and recommendations on US ballot design practices, Better Ballots, has now been published.  
Eight years after Florida's notorious Butterfly Ballot of 2000, and the billions spent on new voting technology, Better Ballots will help to focus policy-makers on the need for change to ballot design.
Read the Brennan Centre for Justice's full report: Better Ballots
Authors:  Lawrence Norden, David Kimball, Whitney Quesenbery, and Margaret Chen
I was delighted to be credited as part of the task force behind the report.