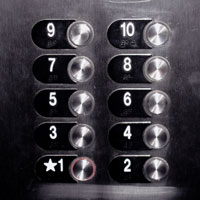 Hi! You're reading this, correct? What about someone who has low literacy? What does that actually mean for them?
Low literacy means 'not good at reading'
There's a lot of low literacy about. One major investigation in the UK discovered that 45% of people aged 16 to 65 read at literacy level 1 or below; around 3% of them only read at Entry Level 1 or below. Numeracy scores are worse.
Literacy is defined by UNESCO as being based on life skills:
Literacy is the ability to identify, understand, interpret, create, communicate and compute, using printed and written materials associated with varying contexts.
What does it mean to have low literacy?
I've been searching for straightfoward definitions of low literacy that I can use in everyday work without much success.
If you know of any, please let me know and I'll amend this post accordingly.
Meanwhile, I've extracted and adapted these definitions from that 'Skills for life survey'.
If you can use a cash point, you're at or beyond Entry Level 2
At Entry Level 1, you can:
write a short message to your family
select a floor number in an elevator or lift.
At Entry Level 2, you can also:
describe a child's symptoms to a doctor
use a cash point to withdraw cash
use a mobile phone to make calls
enter small amounts of information into a website or app.
At Entry Level 3, you can also:
understand price labels on pre-packaged food or
pay household bills
use a website or app to find simple information.
At Level 1, you can also:
read bus or train timetables
check the pay and deductions on a wage slip
select and use a variety of appropriate sources of information including from websites
enter, organise, format and bring together simple information such as writing a letter.
At Level 2, you can also:
compare products and services for the best buy
work out a household budget
use a variety of appropriate sources of information and evaluate its fitness for purpose
evaluate and use different methods of organising and presenting information, taking into account fitness for purpose and audience.
Adapted from The 2011 Skills for Life Survey: A Survey of Literacy, Numeracy and ICT Levels in England
45% of people read at Level 1 or below
Let's look again at that statistic: "In the UK, 45% of people aged between 16 and 65 read at level 1 or below."
That means that their reading skills are not good enough to compare prices for a best buy. They can't work out a household budget. They struggle to decide whether a website is telling them the truth or not. And they may not be able to write well enough to complain.
If you have low literacy, life can be complicated and expensive – and getting help may be too hard for you.
Please help with this post
If you have comments or suggestions about how to make this post more useful or accurate, please contact me.