It can be a little nerve-wracking when a Select Committee of the UK Parliament takes an interest in our work. On 20th July 2021, I listened with pride as Janet Hughes, Programme Director for the Future Farming and Countryside Programme, gave examples of how we are working with farmers and others to co-design the changes to farming.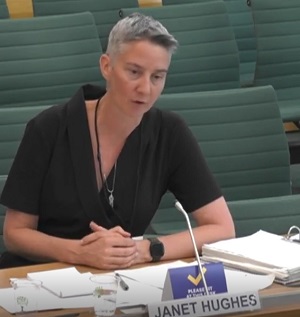 If you want to watch Janet speak in person, start at 16:05 (4:05pm) on this recording on ParliamentLive.TV.
Janet said:
"On the co‑design in general, we are working with more than 3,000 farmers through more than 70 tests and trials, and we are feeding back what we learn from those tests and trials into the design of the new schemes. There are some examples of that. We are looking at the role of local convenors and facilitators to help farmers collaborate with each other and working with cluster groups like the Wensum farmers, the 23 Burns project and Buglife. We have learned a lot from that about what role there is for advisers and facilitators in the new schemes.
"We have been looking at spatial prioritisation and how that might work in practice in the local nature recovery scheme. We have 13 different templates that have emerged for land management plans and we will now be looking at those and taking them into the sustainable farming incentive pilot. We have been looking at blended finance, again, with the Wensum farmers and others, and we have been looking at payment by results.
"All those tests and trials are feeding back into our learning and design of the schemes going forward. We also have a much wider programme of co‑design and engagement for all the activities that we are involved in. We have many hundreds and even thousands of farmers who get involved in that. I have personally been involved in conversations with at least 3,000 farmers in the last eight months or so. We are doing a lot of engagement.
"Can we improve the way that we feed back to people exactly how we have taken on board what they have said? Of course we can. Can we do everything that everybody suggests? We probably cannot because we get lots of ideas through that co‑design and engagement. There is inevitably some frustration when somebody says, "I had an idea and you have not taken it on. Why is that?" We can do better at explaining that, but we have to accept that we cannot do absolutely everything that absolutely everybody suggests.
"It is also fair to say that, over the last year in particular, where we have not been able to be out and about as much as we would like, we have now recently, with lockdown restrictions being lifted, started going out to all the agricultural shows and going out on farm visits again. There really is no substitute for that in‑person engagement. We have really missed that over the last several months. That will have contributed to some of the feelings that you have heard.
"We are very committed to this principle of co‑design and working with farmers. We always welcome more if they want to get involved. If any members of the Committee know people who are frustrated and would like to get involved, please pass on their details and we will be happy to welcome them."
Join in with co-design
If you would like to learn more about co-design on the Future Farming and Countryside Programme and join in: