This post originally appeared in 2011 on 'Forms that Work' – the companion website for Caroline's book with Gerry Gaffney Forms that Work: designing web forms for usability.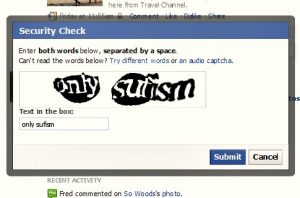 If you're selling something on the web, then you'll inevitably come to a point where you're asking your customers to give you some specific details about how they want to pay and delivery,  whether electronically or to a street address.
Let's face it: there will be a form.
The principles we describe in our book apply to checkout forms, just like any other form:
Understand your customers,
Only ask what is completely necessary,
Ask questions your users can answer,
Make the form look easy,
Test, and test again, with your actual customers.
Specific guidelines for e-commerce
Christian Holst published an excellent article on Smashing Magazine: Fundamental guidelines of e-commerce checkout design.
Anil Batra has identified 5 Things That Could Be Hurting Your Conversions.
featured image A visual captcha by Kaigani Turner, creative commons licence
#forms #formsthatwork