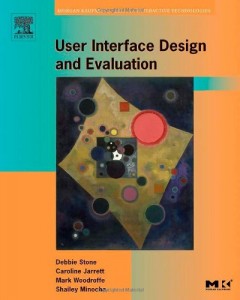 Published today, this book really began life as an Open University course, taught to more than 1,000 professionals and students who needed to understand the fundamentals of user-centred design.
Aiming at both those who are new to the field and experienced designers, we present a comprehensive overview to the field of user interface design and evaluation:
the benefits of a user-centred approach to the design of software, computer systems and websites;
the practicalities of requirements gathering and developing interaction design from user requirements;
and evaluating the user interface.
Buy User Interface Design and Evaluation by Debbie Stone, Caroline Jarrett, Mark Woodroffe and Shailey Minocha (Elsevier, 2005)
Reviews for User Interface Design and Evaluation
"User Interface Design and Evaluation is comprehensive and clear. It's an amazing achievement – a textbook in plain English that works both for the classroom and for practitioners learning on their own. It covers the entire user-centered design process with details on the steps and techniques for requirements gathering, design, and evaluation. It includes great stories and case studies as well as engaging exercises. This is a superb book that puts all the pieces together." Ginny Redish, Redish & Associates, Inc.
" This book offers much more of the sort of material that students yearn for but find too little of in existing textbooks: extensive, concrete, and realistic advice and examples about how to proceed while designing and evaluating user interfaces. With a steady stream of brief examples and some longer case studies; with 'how-to-do-it' advice and worked-out solutions to problems, the student is constantly confronted with – and guided through – the multifaceted real world of user interface design. The book also contains the material that we are accustomed to finding in HCI textbooks: presentation of well-known HCI concepts, principles, results, and methods. This material is woven together with the more concrete, practical information in a creative way that enhances the appreciation of both types of content."  Anthony Jameson, Professor, International University in Germany and Principal Researcher at DFKI,the German Research Center for Artificial Intelligence