I admit it: most forms are designed with some serious purpose in mind. But I rejoice when I come across a bit of forms humour.
Oatmeal describes how to do a shopping cart
This cartoon from the Oatmeal is full of good advice – but please don't visit it if you dislike strong language. How to make your shopping card suck less.
Can a radio button be happy?
A User Interface Artist explains to camera how her emotions about her cat's illness are communicated in her form design.
Forms elements maximum, response minimum
Sebastian Ly Serena in the Netherlands created a visually rich experience that ends up with a simple button to click.
Er … and the reason for that question was?
Spotted on a survey: cat wearing a duck hat? (from Twitter via @joylandrews)
 Age last birthday
Censuses have been around for a long time. We came across this Punch cartoon from 1861 found by the Epsom and Ewell History Explorer project.
A comment on forms processing
How long does it take to process an expenses claim? PHD comics dealt with that issue in 2011.
The form as political satire
In 2011, the UK Defence Secretary Liam Fox resigned over a political scandal. He was accused of improperly allowing associates to attend high level international meetings. This site lets you create your own Liam Fox Business Card.
The Citizen's Self-Arrest Form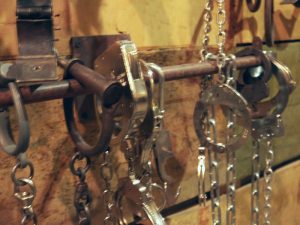 The police department in the city of East Point, Georgia, US produced the Citizen's Self-Arrest form. It is available through web archive at the following link: https://web.archive.org/web/20040929083147/http:/www.eastpointpolice.org/SelfArrestForm.htm (note: link does not work with some browsers).
The Form Response Form
In the early 1980s, the American Institutes for Research had a Document Design Center that did wonderful work in forms design, usability, and information design. They saw a tremendous number of poor forms, and issued a newsletter called "Simply Stated". In one of them, they included a 'Form Response From' that allows you to send a response to a poor form, in categories labelled:
"Evaluation" (example: "Your form is () unfathomable    () immoral   () silly    () the wrong one – try again"),
"Inquisition" (offering choices for you to ask questions about the form)
"Disposition" (to explain what you're doing with the form) and
"Penalties" ("If you fail to respond to this FRF within 15 days, you'll make me more upset than I am now"
There's a downloadable .pdf of the form.
Just personal enough: a correspondence response form
The science fiction writer Robert A. Heinlein had a response form that he sent to every correspondent.
Two of the choices:
"( ) Thanks for your kind words. You have made my day brighter.
( ) You say that you have enjoyed my stories for years. Why did you wait until you disliked one story before writing to me?"
#forms